The Highland Cinema doesn't listen to the Minutemen. "Why in the hell not?!?" I ask myself. Especially since I fucking love Mike Watt. Really I do. Those
tour diaries
? I've read every single one. In its entirety. Usually while at work. In less than two years I saw Watt play four different times, the first backing up my most-favorite of
guitarists
, the last supporting that awful band with Krist and Curt Kirkwood. And how couldn't I dig Watt when he has such super-cool
fashion sense
? It's like looking in a mirror.
But I still don't listen to the 'Men. The CD cabinet has some fIREHOSE and
Engine Room
, but where's
Double Nickels
? Would you believe that I have eight Greg Ginn solo releases and not this? What gives, Highland Cinema?!? You love
SST
! You love
proto-alt-rock
! Get with it!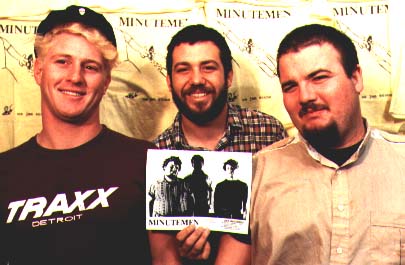 We Jam Econo
is great: chock full of live performances that are chock full of sweaty fat guys and drum fills. And lots of early 80s hipster talking heads -- most of whom you'll recognize from
Get in the Van
. But where's Ginn? And more Hurley! Is that
J Mascis
or your
Grandma
? Check out these guys' living rooms. Jack Brewer is forty-something and it looks like he lives at home, and Joe Baiza has Christmas lights in his kitchen.
What we really dug was how all these cats absolutely
adored
the Minutemen. This band was a force to be reckoned with, a live juggernaut that made you listen but weren't assholes about it. Seeing that almost makes me feel okay for not having any of the records -- they were just flyers for the gigs anyway.
You should totally see this. But skip the rambling, go-nowhere "deleted" scenes. "Deleted," my ass! No one would put that Pettibon segment in a movie.