Willem Dafoe and John Turturro in the same scene. Take that,
Heat
!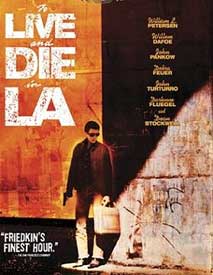 Okay, this was another lame screening at the Highland Cinema. In spite of the fact he insisted
Wang Chung
score this flick, Billy Friedkin is still a favorite of ours. He could do no wrong for a good coupla years, but, man, did he ever lose it. Not as bad as
the Copes
, but still...
We also gotta give props to
Billy L. Petersen
. Talk about a shoulda-been go-to guy for them 1980s cop roles. So good in that
movie
that was later remade into a revisionist Lechter flick, but then...
The Contender
?!?!? Hmmm...quite the familiar arc. I'm sensing a trend here. Watch out, everyone else from this movie: you will start oh so cool and end oh so lame! At least
Steve James
left our
sad and beautiful world
before he turned into a shell of his
former self
. Rest in peace, my brother.